A Cappella-Go!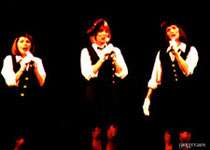 Performing at the 1997 Northwest Regional Harmony Sweeps A Cappella Festival
They were the First Runner-Up and also received the award for the Best Arrangement for "Sing, Sing!"
A Cappella-Go! is composed of three exceptional women combining extensive musical backgrounds to create an eclectic and exciting musical experience. They feel that their mission is to share the great music of the past with audiences of all ages, as well as infuse the music of the present with that innocent, transmutable style which embraces the joy of music. They have joined forces to create a sophisticated and exciting performance experience in A Cappella-Go!

From the left: Ginger - is in the basement (bass), Suzanne - is in the kitchen (alto), and Kathy - is in the attic (Soprano)
Contact information :
A Cappella-Go!
16205 NE 27th St.
Bellevue, WA 98009
425.885.2569
To Book A Cappella-Go!
Terry Quick
Entco Entertainment
7017 196th St SW
Lynnwood, WA 98036
425.670.0888
Email: ENTCO@compuserve.com
For more information including how to purchase their album, check out the A Cappella-Go! web page.
Last updated July 2000