Winners of the 1997 Northwest Regional
Harmony Sweeps

KICKSHAW was founded in November 1996. They specialize in a cappella, singing in any style. KICKSHAW has a high-energy sound that gets the audience tappin' and clappin' and singing along no matter what song they're doing.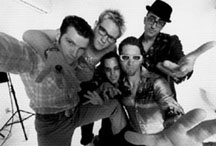 Danny Figgins, Blake Lewis, Dan Shumacher,
Jim Castaneda and Andy Marshall
| | |
| --- | --- |
| KICKSHAW has just released their first, full-length album, "Superstar" featuring a mixture of original songs by the guys as well as several covers, all done in the hard-driving style that is KICKSHAW. | |
KICKSHAW can also be heard on the 1997 Harmony Sweeps CD. This CD is available from the Primarily A Cappella Catalog. This album is a compilation of all of the groups who competed at the National Harmony Sweeps National Championship in May 1997 with KICKSHAW performing "Some Kind Of Wonderful" and "Thinkin' Bout You".
To book KICKSHAW contact:
Pacific Rim Talent
PO Box 250
Bothell, WA 98041-0250
425.489.7900
Send mail to KICKSHAW at:
PMB #1163
22833 Bothell/Everett Hwy #102
Bothell, WA 98021
Phone and Fax: 415.482.1753
Email: Kickshaw@aol.com
Check out their own web page -- complete with bios, photos, concert dates, etc..
Promo shot courtesy of KICKSHAW and Pacific Rim Talent
Last updated September 2000