The 1996 National Harmony Sweeps Champs
Formed in '95, m•pact was the newest act ever to win both the NW Regional and National Harmony Sweepstakes, as well as Audience Favorite at both. Since their victory, they have performed across the country, and most recently in Europe and Africa - occasionally with such artists as Ray Charles, Bobby McFerrin, Boz Scaggs and Natalie Cole.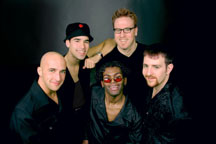 L - R: Jake Moulton, Marco Cassone, Britt Quentin, Greg Whipple, and Trist Ethan Curless
October 1999 saw the release of m•pact's third album, this one a Christmas album called "The Carol Commission, A Christmas Collection." This album was in the making for over a year -- first simply as a concept and finally as reality. They commissioned some of their favorite vocal jazz arrangers to create special holiday arrangements just for them, such as Yumiko Matsuoka-Young formerly of Vox One, Grammy-nominated writer and arranger Roger Treece and Cedric Dent of Take 6, to name a few. They also arranged 2 tracks themselves.

"The Carol Commission" received a CARA for Best Holiday Album and "Caroling, Caroling" was named Best Holiday Song.
m•pact's second album, aptly named "2 ", includes nine originals, one cover, and plenty of the astounding talent we're used to from the band -- these guys just keep getting better. Current concert favorites are included, as well as everything from ballads to jazz to soon-to-be dance floor favorites.

In 1999, m•pact was awarded a Contemporary A Cappella Recording Award (CARA), for their cover of "Fantasy".
In October of '96, m•pact released their first album, "It's All About Harmony", which is a very apt description of the kind of music they love to sing - songs of many styles, filled with big, thick chords. The CD contains 10 songs - 5 covers and 5 originals.

"Change In My Life" received the 1997 CARA as Best Doo-Wop/R&B song and Carl Connor-Kelley was named Best Male Vocalist. Congratulations!
To contact m•pact, write to:
m•pact!
PO Box 51248
Seattle, WA 98115-1248
Email: email@m-pact.com
For more m•pact information, pictures, bios, sound bites, concert schedules, whatever . . . visit their Web site here.
Promo photo courtesy of m•pact music
Last updated 8/00