Mixed Company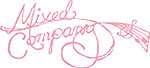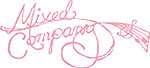 "You're Invited" ... to sample the smooth, lush harmonies and diverse style of Mixed Company, an a cappella quintet based in Leavenworth, Washington, a beautiful Bavarian-style resort town high in the Cascade Mountains. This album, released in May 1996, contains a mixture of covers and originals, in various styles - including a couple of songs with a definite local flavor: "Leavenworth" about their hometown, and "Salmon Song", which is definitely about the Pacific Northwest.
This group debuted at Christmas 1985 as Dickens carolers, and anticipates making an album of holiday favorites. Mixed Company entertains for tour groups, corporate events, private celebrations and appears at local festivals and concerts.
Members represent a rich diversity of professions; Dawns' a potter and organic farmer, Doug's a baker and choral director, Leah's a pharmacy technician and a Spanish Interpreter, Kurt's a financial analysts and Rhona's a voice teacher and artist.
For bookings contact Leah Moats 509.548.7843 or Rhona Baron 509.54.5058
Last updated July 2000